Hello Monday! We had a pretty good weekend over here. I'm having one of those rare spurts where I feel super motivated and end up getting a ton done.
.
So, my nearly-2 year-old, Pandora, spends most of her time doing this, all over the house. And if you try to clean something up, it just draws her attention to it & she wants to play with it. So you start cleaning up a wooden puzzle & she runs over & dumps it out to try solving it herself. You move onto the Legos... and so does she. Most of the time I'm so busy trying to keep up with the laundry, dishes, and cooking, I have to just ignore her mess and it doesn't really get tackled until we're having guests over, & then Justin & I both clean like crazy. (Being a parent is *so* fun sometimes!) Here's what she can do to a clean playroom in just a few hours ~
.
Friday I was trying to cook and there was so much junk on the kitchen floor it was really stressing me out. I decided that Saturday I was just going to spend the entire day cleaning! And I worked & worked, only stopping to re-assemble a heavy-duty tape measure the kids had pulled apart (pretty proud I figured that one out), and during their nap break I worked on the computer. I finally ran out of steam around 3:45 & sat down for a half hour or so until it was time to start dinner. Let's just hope I don't have to do that again for a while!
My husband got paid for some extra work this month & after tossing around some ideas we decided to buy the new bed set for our bedroom. We really need to start painting walls, especially in our room where I ripped out some ugly wallpaper, but I couldn't pick a color for the wall until we had a bed set to match colors! After searching for months, I could only find one green queen comforter set I liked, but it came with a hefty price tag at $140. I eventually found it for around $110, but Saturday the price was back up, so I started searching again. So I was completely shocked when I found it in a king size for $87! It's just a little larger both ways so we snatched it up, and now this beauty is mine! (Just the two shams & comforter. I'll find my own decorative pillows) ~
Which is oddly enough the exact store we were planning out buying some shoes from, so I also ended up with
these
.
We also grabbed this large 3'x4' Starry Night painting to fill the big, blank wall in the living room. We saw that painting in person in college so it's meaningful and matches our color scheme ~ perfect!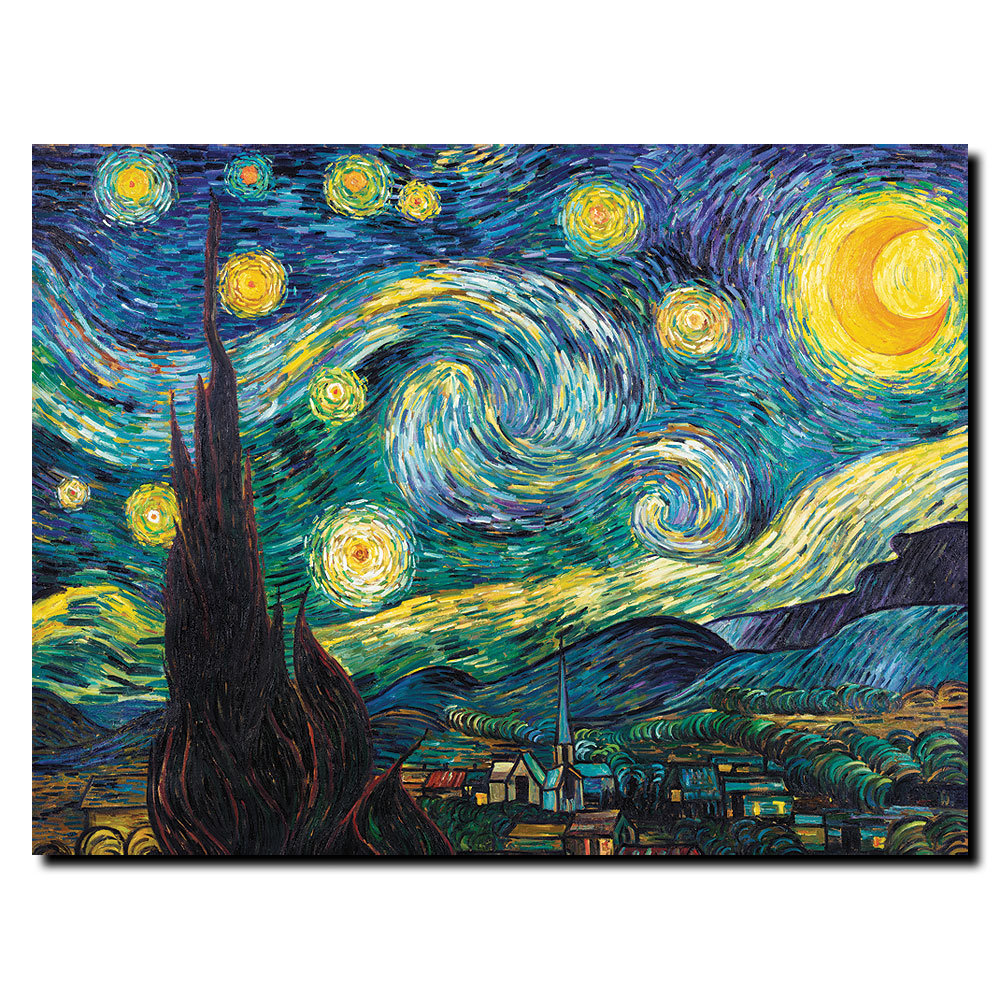 Sunday we tried to stay productive & moved the Christmas boxes back down to storage, dropped a large load off at Goodwill, sorted through the kids clothes & pulled out what was small, and I fixed the nicks in a mirror frame with some paint so we can hang it in our room. We've been in this house for half a year now, and it feels like such slow progress, but at least there *is* progress!
By the way, at the end of the year we were finally able to move the piano from my Nana's house that I grew up taking lessons on. One day we'll need to get it tuned, cleaned, and repaired, but after $350 for the move we're just happy to have that done. (Oh yeah, now I remember why we never have money to buy stuff for the house!)