Way back in mid-2011 I was contacted by a make-up artist to create an ambigram for a movie! It was very exciting ~ The ambigram would be worn as a tattoo by
Julianne Moore
in the small, independent movie
What Maisie Knew
. She got a 'tattoo' of "Maisie Elizabeth", her daughters name in the movie, and I'm guessing she found the site because of this
Maisie
ambigram I had done before.
I didn't want to say much about it online until I had more info about the movie release or some screenshots or something, and all I knew is the movie was supposed to come out in 2012. Throughout the year I'd check back, never really finding more info, other than the fact it was shown at some film festivals.
After scouring the internet for pictures, the best shot I was able to find was this one of Julianne out on the town with her tattoos still on. You can see the circle on her left wrist.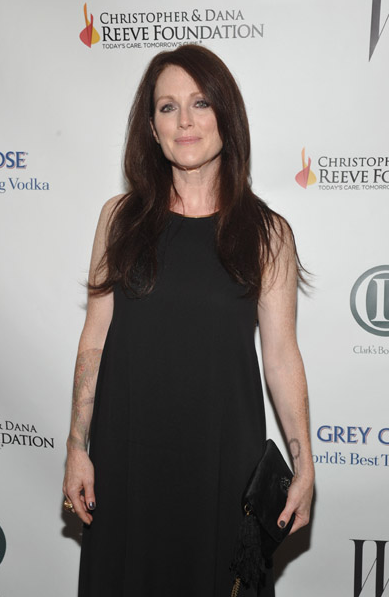 At the beginning of 2012 I was contacted by the same artist to create a design for the Showtime show
The Big C
. The 'tattoo' would be for the main character, and part of the plotline, but after some sketching we found that the people in charge wanted something very simple and I suggested that the C from their logo would be their best bet.
There was another design though, this time for a side character I never got the name for. We created an
ambigram cross
with the word "Life" (I'm not allowed to show it without permission, so you'll just have to imagine it). We don't have Showtime, so I searched around online for some pictures or info, but without a character name all I was able to find was one small screenshot that *might* be it.
The other day I found that image and started searching again, checking Netflix & Hulu for old episodes. Luckily Showtime had the
first episode
of season 3 on their site and I found our guy ~ Kirby! 'Arm'ed with a name, I found descriptions of his episodes and screenshots
here
. These bar shots are a little dark, but you can make out the cross on his arm (episode 3.1 and 3.2) ~
It looks like they kept the ambigram but changed the end caps of the cross. I'll probably be buying those two episodes soon to see the cross on a bigger screen!